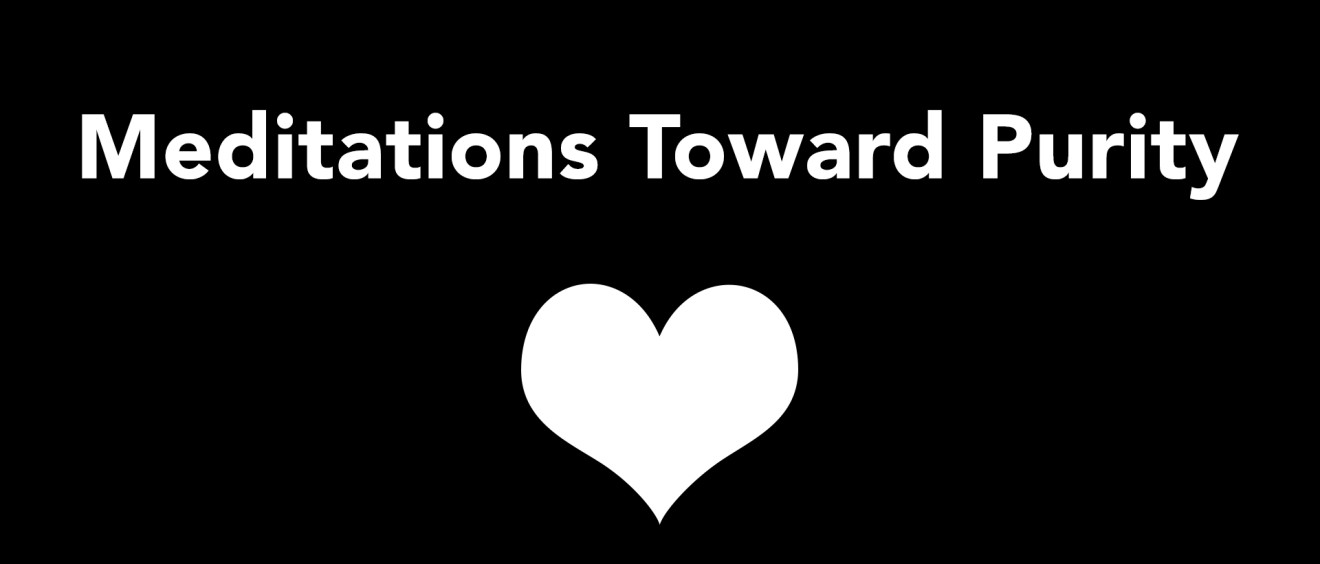 Helping you meditate on Scriptures as you pursue purity
1 Peter 2:11 – Beloved, I urge you as sojourners and exiles to abstain from the passions of the flesh, which wage war against your soul.
Passions of the flesh
What is the focal point of this verse?  The passions of the flesh (fleshly lusts, NASB).  These are desires, strong desires that originate from my body and call me to pursue eagerly the satisfaction of my desire, often paying scant attention to what boundaries I may be crossing and whose property I may be trespassing on as I run like a baying hound chasing a coon.  What comes to mind most readily is sexual desire, though Peter undoubtedly has other desires in mind as well.
Let's go into a little more detail about these passions of the flesh.  They are:
They are called passions of the flesh, for bodily needs and wants are at the root of these desires. The presence and pull of these desires are inescapable, for as long as I am in my body, I will have these desires. They spring from what I am as human, and they are inextricably linked with my existence in my body.  Simply put, I cannot eliminate all desire by training myself to think differently.
Internally sourced, not originating externally
My desires may burst into flame in response to an external stimulus, but my desires were alight, smoldering away within me all along.  My desire does not originate in the tempting person, image or object that I encounter.  My desires are my desires, proceeding from deep within me.  Consider James 4:1, "your passions…at war within you", or Matthew 15:19, "out of the heart come evil thoughts…" My desires leap into action when I encounter what I have been wanting, but the desire comes from within me.
"For the desires of the flesh are against the desires of the Spirit…"  Galatians 5:17 These passions sourced in the flesh are by nature in conflict with, in opposition to, the Spirit and the desires He engenders in us.  A cessation of these hostilities between flesh and Spirit is not possible because flesh and Spirit are intrinsically opposed to each other.  A Christian feels acutely this internal conflict.
Paul speaks of "the sons of disobedience – among whom we all once lived in the passions of our flesh, carrying out the desires of the body and the mind…" (Ephesians 2:3)  Unbelievers routinely follow or indulge their fleshly passions.  And these desires do not magically disappear when a sinner is converted. The transformed believer still faces old habits and a lifestyle that used to dominate his life; change is not a piece of cake.
Abstain
Now that he has identified this enemy which wages war against the soul, Peter urges his beloved brothers and sisters to take the appropriate action against this enemy, to abstain from the passions of the flesh.  To abstain means to refrain from, to keep away, or to avoid contact with or the use of something.
There is another option, of course. Peter speaks in 2 Peter 2:10 of those who indulge in the lust of defiling passion.   I face a choice. The passions are real, strong, magnetically attractive, with the pull constantly, undeniably, sometimes overwhelmingly being exerted on me.  How do I respond?  Do I keep away or give in?  Do I say "no" decisively or do I let myself be swept away?  Do I abstain or indulge?
Peter urges us to abstain, not just from fulfilling the desire (doing it) but also from indulging or giving in to experiencing the desire (delighting in it) even when we may not give in and actually commit what we want to do.  We may refuse to do what we are being tempted to do, yet we can get a certain high or pleasure just from entertaining the attraction instead of immediately turning away or shutting it down.
1 Thessalonians 4:3 – For this is the will of God, your sanctification, that you  abstain from sexual immorality.  Fundamental to God's will for His people on an individual scale is holiness, and if ever there was an area that calls for holiness, it is sexual immorality.
Which wage war against your soul
What is the big deal?  Why all the urgency and uproar over lust, something that everyone in the world just accepts as pretty normal?
Many reasons, but one is highlighted here. The passions of the flesh wage war against my soul.  In other words, my lusts actively clash with and attack my true self, my fundamental identity, the part of me that will one day give account to God and that will live forever. Why?  How?
War against my soul, because the rush of my passions dulls my desire for God, for purity, and for the unseen reality of heaven.  The taste and zing and quick high of cotton candy makes steamed broccoli seem a bit drab.
War against my soul, because the guilty after taste from my lust indulged contaminates my conscience, making me instinctively run from God rather than to God. I become reluctant to draw near to God. This is not in the best interest of my soul.
War against my soul, because my passion indulged floods my heart with shame, turning me away from God's people instead of engaging with and rejoicing in them.
War against my soul, because in the aftermath of my lust I can't pray, yearn for holiness or a clean heart, find delight in the Word of God, or love others with humility and purity.  I find my heart distracted, debased and derailed from faith in God.
War against my soul, because the passions of the flesh are against whatever is good for my soul.
As sojourners and exiles
My home is in heaven, where God dwells in light, perfection and purity.  I belong there.  As I travel there through this present world, I can never feel at home here.  Here the surrounding culture exalts and idealizes giving in to fleshly passions; to restrain yourself is to miss out foolishly on the fun. I am not part of this society; its customs and morals are foreign to me.  I must remember my alien status and not let myself get assimilated into the surrounding culture. Visiting foreigners are careful to retain their identity;  they do not regard themselves as a part of the host society.
Beloved, I urge you as sojourners and exiles to abstain from the passions of the flesh, which wage war against your soul.
Lord, I feel keenly the tug of my fleshly passions.  Help me to abstain, not to indulge or give in.  I know that as pleasurable as these desires are, they are the deadly enemy of my soul. May your Spirit work in me to choose and to do your good pleasure.